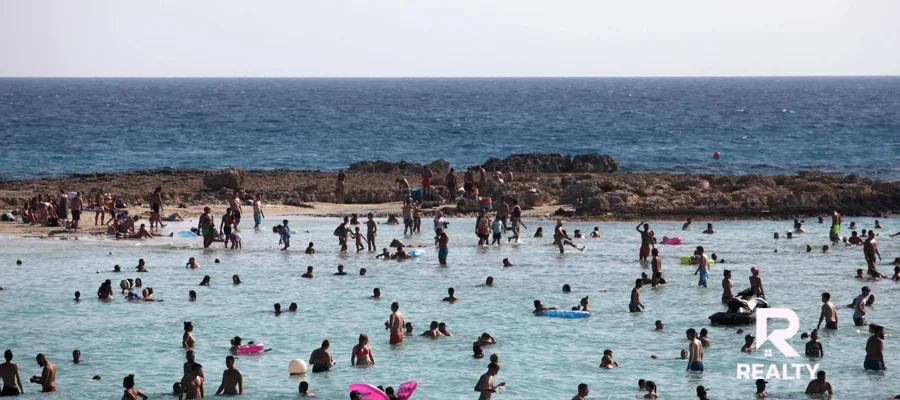 CYPRUS RESTRICTIONS AND SAFETY
Cyprus is a popular tourist country. Thousands of people visit the island each year. Although this island is geographically located in Asia, it is politically a part of Europe and is even a member of the EU. The turquoise beaches, stunning coastline drives, and archeological discoveries of this lovely island are its main claims to fame.
It is a location that welcomes many tourists to visit each year and is divided into a Turkish North and a Greek South.
Learn all the regulations of the country you are visiting before embarking on any travel or relocating there. Below we want to share with your up-to-date information about the restrictions and Cyprus safety.
Take note that this information is provided for educational purposes only; therefore, you should double-check some details to make sure they still hold before visiting Cyprus.
So,
Traveling to Cyprus has been complicated because of the differing restrictions for North and South Cyprus as well as some stringent COViD-19 testing requirements. Now, the situation has drastically changed. As of September 2022, Cyprus has valid a new destination protocol. In the new rules, we observe a simplification of some of the procedures that used to be of concern to island visitors.
Is vaccination documentation required to enter Cyprus?
If you are coming to Cyprus from an EU country, a Schengen country, or from outside the EU, you do not have to provide proof of vaccination, convalescence from COViD-19, or a negative test result. Cyprus travel restrictions remove.
You also don't need proof of COViD-19 if you want to transit the island.
Also, since April 2022, you don't have to fill out a Passenger locator Form if you're traveling to the island.
Do any local limits on movement exist?
There are now no limits on movement, and visitors can take advantage of all facilities and services offered throughout the destination without having to show any documentation of their health.
Do I still need to wear a mask on the island and what is the traveling to Cyprus travel restrictions?
All visitors over the age of 12 must wear masks when riding any type of public transportation.
How safe is Cyprus?
The situation in Cyprus has improved somewhat due to the active vaccination against COVID-19 around the world. Nevertheless, all general health, safety, and hygiene protocols have been developed for all tourist and public establishments in Cyprus
For example,
- People who do not travel with the same traveling group to Cyprus keep an acceptable distance from one another by using physical distance-keeping techniques.
- All public indoor spaces have adequate ventilation plans in place, ensuring that, in addition to air conditioning, fresh air is continuously introduced.
- Every establishment has antibacterial gel or liquid available at the doors, reception areas, lounges, public restrooms, elevators, etc.
- There is an antibacterial gel or liquid provided in every establishment at the entrances, lobby, lounges, public restrooms, elevators, etc.
What happens if I get a Covid-19 positive test result in Cyprus?
If you feel symptoms COViD-19 follow travel advisory Cyprus:
A special hotline has been established for COVID-19. Contact 1420 if you are in Cyprus and are having symptoms or have concerns, or call 1450 for general information.
- Keep your distance from "yellow fever mosquitoes," bats, other vermin, and rodents. They spread illness.
- The labs listed in the following link's list can perform COVID-19 PCR tests: bit.ly/3Ra5mas
- The majority of laboratories and pharmacies in Cyprus offer quick tests for COVID-19.
Cyprus safety government is dedicated to providing for any visitors who test positive for the coronavirus while they are there. In cooperation with their agent and/or airline, the passenger just needs to pay for their airport transportation and return flight since the government will move these people to specified facilities and pay for their hotel, food, drink, and medical care.
Travelers who test positive for coronavirus have exclusive access to a COVID-19 facility with a surplus of open beds and intensive care units with respirators.
If a coronavirus test is positive, an individual may also opt to live alone in a private residence or apartment rental at their own expense, providing that their room is not shared with anyone else and that they refrain from using public facilities.
How long are positive cases kept isolated?
After seven days of isolation from the date of the positive test, the cases are released without needing to retest negative. If a traveler tests negative for coronavirus on the fifth day after testing positive, the period of isolation can be cut even shorter (test should be PCR and the cost borne by the individual). Keep in mind that the traveler must always remain in their room or other specified locations during the isolation period.
How traveling to Cyprus passport requirements?
EU nationals can enter Cyprus without a visa, but they must have a current passport or national identity card with a photo and a declaration of citizenship.
In order to travel to an EU nation after Brexit, your passport must:
- issued no more than ten years prior to the date you intend to enter the nation (check the "date of issue")
- valid for at least three months following that date (verify the "expiry date")
On the website of the Consulate General of the Republic of Cyprus, you may find a complete list of the nations whose citizens do not need visas for stays of up to 90 days as long as they are genuine visitors, as well as a list of additional categories of people who are also exempt.
When traveling with a temporary passport or an emergency travel document, different entrance requirements can be necessary. Check with the nearest foreign representation for your trip before you depart.
There are numerous ways for citizens of foreign countries to get authorization to enter the Republic of Cyprus: VISA (stamp inside a traveler's passport)
Visa types:
Multiple-entry, short-stay, and travel visas (C)
- It is appropriate for one or more entries. At the consul general's discretion, multiple-entry visas may be granted for up to 3 years or, in exceptional circumstances, up to 5 years..
- In either 180-day period, the overall length of stay may not exceed 90 days..
Transit Visa for Airports (ATV)
- During a layover or transition between two stages of an international trip, this visa category allows foreigners who are required to obtain one to pass through the international transit area of Cypriot airports without actually entering the country of Cyprus..
- You could be required to present a return or onward ticket as well as documentation of adequate finances to cover your stay by customs officers..
- You may need exit permission to leave Cyprus if you are at least 16 years old, a dual citizen, or a candidate for Cypriot citizenship..
- To learn more about this procedure, get in touch with the Cyprus Ministry of Defense.
Third-country nationals (non-EU) who possess a valid category D visa or residence permit in one of the following countries: Bulgaria, Croatia, Romania; the Schengen nations; the European Union (excluding the UK and Ireland); are citizens of:
- possess a valid passport or other necessary travel documents;
- be able to verify why they are traveling to Cyprus and why they are staying there;
- own enough money to support their stay and travel back to their country of permanent residency;
- not be on the list of people who are not allowed to enter the Republic of Cyprus.
A stay cannot exceed 90 days in any 180-day period.
What are other travel warnings Cyprus?
Travel restrictions to Cyprus through the so-called "Turkish Republic of Northern Cyprus" are forbidden. If you have already entered through Ercan International Airport or the Port of Famagusta, authorities may not permit you to pass through checkpoints at the United Nations Buffer Zone.
Make sure to proceed through one of the official crossing locations if you must cross the UN buffer zone, sometimes known as the "green line." Anywhere else, doing so is prohibited.
Cyprus travel advisory:
East: Deryneia, Strovilia, and Pergamos
Agios Dhometios, Ledra Palace, and Ledra Street are all in Nicosia (for pedestrians only)
Green line restrictions for the West: Lefka-Apliki Kato, Kato Pyrgos-Karavostasi, and Astromeritis-Zodhia - Cyprus's Customs and Excise department
It is important to follow the main travel advisory Сyprus, not to break the local law, and to take care of your health in order to avoid problems in Cyprus and to stay safe.
What is the situation with violence in Cyprus?
In Cyprus, crime against tourists is uncommon, but the typical common-sense guidelines on keeping your belongings secure in your hotel room and when out and about in cafes and bars still apply. By purchasing your own beverages and staying with friends, you can reduce the chance of drink spiking. when out on the town.
Drug usage and possession are illegal in Cyprus, and anyone found using or in possession faces a steep fine or even jail time.
When you are making travel plans to Cyprus, we hope that this information will be useful to you.
To emphasize, here are a few key points:
- Take care of the required paperwork
- Keep an eye out for updates regarding island-wide COViD-19 restrictions
- Be responsible for the security of your own possessions