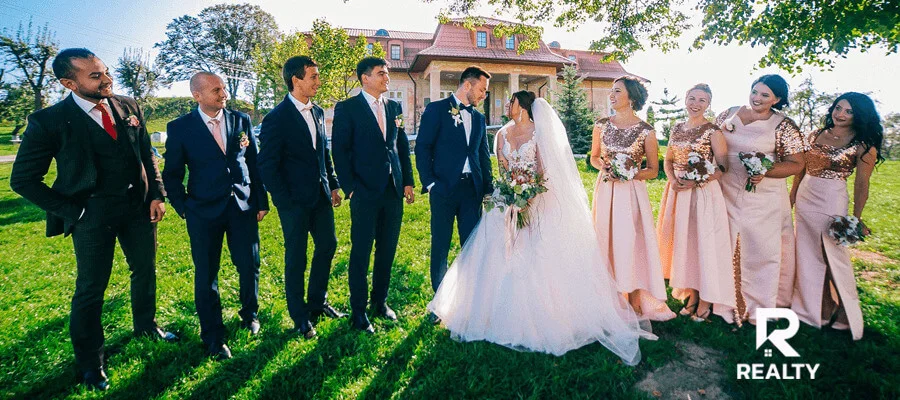 GETTING MARRIED IN CYPRUS
Having a marry in Cyprus is the best decision a couple can make. The lovely island, the birthplace of the goddess of love and beauty, Aphrodite, is the ideal location for a wedding. The lovely hotels, the nearly constant sunshine, the friendliness and generosity of the Cypriot people – all of these factors have made Cyprus a popular wedding location for Europeans.
In that blog, we tell you all the details of holding a wedding ceremony in Cyprus. What laws, what documents to take care of, and how to choose the best place for the wedding?
Why getting married in Cyprus?
- From most countries, there is a direct flight to Cyprus
- Lack of obstacles in marriage registration and licensing
- Getting married in Cyprus legal requirements recognized in all of Europe countries
- Chance to plan a wedding and honeymoon as a singular vacation
- The flexibility to plan a wedding throughout the year
What you should know about Cyprus marriage laws?
People who desire to getting married in Cyprus may do so in accordance with the requirements of the 2003 Marriage Law, regardless of whether they are locals or visitors. Those who want to marry in Cyprus should first arrive and show themselves to the marriage officer in the city of their choice in order to schedule the wedding.
According to the law, the following principles form of getting married in Cyprus legal requirements:
- a legal partnership can be registered before the mayor, vice mayor, or any other official designated by the municipal council. You have to go to the local Сyprus town hall with the documents. For example, if you want to create ceremony in Ayia Napa, you have to submit documents to the municipality in order to get a Napa marriage license
- religious marriages are also recognized if they are structured in accordance with the Canons of the Greek Orthodox Church;
- and there must be a minimum of two witnesses.
What getting married in Cyprus legal requirements?
- While get marry in Cyprus is not difficult, it is important that you are completely aware of the legal procedures.
We have prepared for you an overview of all the legal conditions for marriage. This information is of an informative character and it is important to remember that before Cyprus marriage you need to check the information in advance too.
Please take note that depending on the nationality, different nationalities may have different documentation requirements and Cyprus marriage.
What are the tips to be followed when getting Civil married in Cyprus?
- Held in licensed locations or in the Cyprus Town Hall, if appropriate (additional fee applies)
- With a "Special Licence," there is a 3-day minimal residency requirement (additional fee).
- The Marriage Officer at the Municipality of your choosing must receive your married application in person.
- The Cyprus marriage ceremony will take place in English.
- 3 full working days before your wedding, you must have lived in Cyprus.
- After arriving in Cyprus, you must submit your marriage application in person to the Municipality of your choice's Marriage Officer.
- You must provide the original required papers specified below when submitting your application.
- Within three months after the date the notification is given, your Cyprus marriage must take place.
What are the documents to be submitted for marriage registration in Cyprus?
- The pertinent authorities must translate the paperwork into English and ensure that it is all original..
- At least three working days before how to get married in Cyprus, you must bring all necessary paperwork and present it in person to the municipal marriage officer..
- When requesting a marriage license in Cyprus, the following documents must be produced by both the bride and the groom..
- Full passport having a six-month minimum remaining on it.
- Copies of the photo page from the bride and groom's passports.
- Copy of the name, address, and occupation pages from your two witnesses' passports' photo pages.
- A complete birth certificate with the apostille stamp and the names of the mother and father.
- If you are divorced, present your Decree Absolute and your former marriage license with the apostille stamp..
- If you are a widower, you must present an apostille-stamped copy of both your previous marriage certificate and your former spouse's death certificate.
- Name Change Deed Poll Certificate, with the apostille stamp, if appropriate.
- If relevant, an adoption certificate must be accompanied by an apostille stamp.
- Adoption Certificate, if applicable, and a certificate bearing the stamp "a" stating that there are no obstacles to marriage.
- If you are minor but getting married in Cyprus.
- In Cyprus wedding rules between minors are legal according to the current laws. However, in order to do so, the minors' parents must provide their approval.
- The other parent must consent to the marriage in cases where one parent is unable to do so for a variety of reasons, such as death or any other form of incapacity.
- If one or both parents are deceased or incapable, the minor's legal guardian must consent before the local government can move through with the marriage registration.
How to obtain residency when being married to a Cypriot citizen?
Many foreign nationals have chosen to relocate to Cyprus, stay put, and bring their family to live with them. This also applies to people who desire to bring their wives to join them who were married in their home countries. They must go through the process to have their marriages legalized in Cyprus. The marriage certificate is the primary document required for this process in order for them to reconcile with their spouses.
Another situation is Cypriot nationals who spent some time living overseas, got married there to a foreign national, and then returned to Cyprus. In this case, the foreign partner can move in with the Cypriot citizen who is eligible to apply for a residence permit.
The main benefit is that the foreign spouse can apply for Cypriot citizenship after three years of marriage to a citizen of Cyprus and after having lived there for an additional two.
Cyprus's Registrar of Marriages
The Civil Registry and Migration Act established the Registrar of Marriages, which keeps a record of all marriages that have occurred in Cyprus. The consent of the parties to the union is one of the documents that the Registrar must obtain in order to retain records of civil and religious ceremonies.
The Registrar will also register any divorce that occurs in Cyprus and deliver the marriage certificate to the happy couple.
What are the best cities for getting married in Cyprus?
On the island, nature has created places with powerful energy, which is shrouded in a sense of happiness. You can get married in any Cypriot resort city. For example it could be:
- Limassol. This is the second largest city in Cyprus. It is the main port of the island and its center of winemaking. Most of the Cyprus marriage are offered to do here in the hotels of.
- Ayia Napa. It is a land of boundless sandy beaches and sunshine. It is also famous for being the largest entertainment center on the island. Here is a popular Love Bridge one of the largest in Europe. Not far from the bridge is the famous "love tree". Here traditionally photographed not only foreign honeymooners but also locals who travel from all over Cyprus. This city is the most popular for weddings. You have to go to your local municipality to get a Napa marriage license.
- Larnaca. Newlyweds who have decided, in addition to the civil ceremony of marriage, to go through a church ceremony, will find the Temple of Lazarus. It is this saint, who was raised in the Holy Land by Jesus Christ, and was the first city bishop. For adventurous newlyweds, there are underwater historical sites. You can have your wedding at the bottom of the sea and take a photo near a huge shipwreck.
- Nicosia. Though located far from the famous beaches, it is no stranger to seaside resorts. The ancient streets, charming gardens, city swimming pool (popular with honeymooners), and historic gates of Famagusta are perfect for getting married in Сyprus.
- Paphos. The ancient Roman capital of Cyprus is the most soulful among the wedding destinations of Cyprus. There are no luxurious beaches, but there are many historical places of interest. Not far from Paphos you will find a beautiful village called Geroskipou, which means "sacred garden". Many couples love this place. The reason is the Orthodox Church of St. Martyr Paraskeva (IX century) - the only five-domed church on the island. Just opposite the church is the Сyprus town hall where the official marriage ceremony is held, which is symbolic.
And twenty minutes away from Paphos is the biggest magnet for lovers on the island. This is Petra tou Romiou - the Stone of Aphrodite. This is where the beautiful goddess came ashore. Most wedding couples take a promise of fidelity at the foot of this mountain, and the patroness of love herself becomes a witness to their marriage.
Specifics of a Cypriot wedding
Many couples who plan to get Cyprus marriage want to bring a piece of a traditional Cypriot wedding. Any or all of the following wedding customs could be incorporated into your ceremony:
- Bread. Cypriots frequently prepare koulouria for decorations and glstarkes for guests.
- Music. At the groom's residence, ceremonies for village weddings frequently begin with the melodies wedding musicians Cyprus
- Cyprus wedding rules often involve a dance, in which the priest circles the couple three times around a table to represent enduring Christian customs.
- Cyprus wedding rules often involve a dance, in which the priest circles the couple three times around a table to represent enduring Christian customs.
- Cyprus marriage may involve the groom holding the bride's bouquet as her father leads her to him outside the church
- Scarves and crowns are customarily used by visitors to cover the pair in red scarves and lay stefana (or crowns) on their heads
- Cyprus is a unique and lovely location for weddings. It's also a more affordable option, and since destination marry in Cyprus is so popular, you can discover plenty of businesses and websites to assist with planning your big day.
How much will your weddings in Cyprus prices?
We have provided approximate figures for weddings in Сyprus prices. It is important to check points with the Cypriot Embassy or Consulate
You can anticipate paying the following for a typical marriage in Cyprus:
- for the civil ceremony in Cyprus town hall, $128
- The emergency application costs €281 and allows your ceremony to happen in three days as opposed to the customary 15.
- For a set fee, some opulent hotels and villas offer package deals that include catering, venue rental, and a wedding planner. For 30 guests, these can cost an average of €5,000, depending on the level of formality you desire.